A stunning bridal gown for a beautiful bride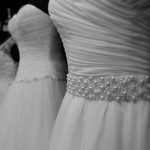 Romantic lace trains, plunging necklines and rich blush tones. If you are currently planning for your upcoming nuptial then you no doubt have put your bridal gown at the top of your list. Choosing your gown is deeply personal, and the garment needs to be just right.
The cut, colour and style should not only be trendy but also suit your own personal style while still flattering your sexy curves.
Whether your wedding is during the day, at night, on the beach, in a garden or at an exquisitely draped venue, the right gown is just a store visit away. Delicate lace, wispy feathers, over-sized bows or sparkly embellishments, these can add extra pizzazz to your gown without taking away from your natural beauty.
Don't want to go strapless? Add a sheer lace sleeve, an off the shoulder drape, a jacket or cape to give your gown a more modest look.
Don't want to go with a traditional white colour gown? Why not try a luxurious ivory, rich champagne or barely there blush. Combine two or three colours in the same palette to give your wedding dress a layered toned look. Or try pairing an ivory lace over a rich champagne for a unique creation. Whatever your skin tone, choose an option that brings out your natural glow.
Step in to one of our stores and let our friendly staff help you pick out your perfect fit…