Exclusive evening fabric for that catwalk moment.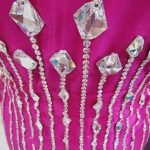 No woman's wardrobe is complete without that perfect designer-made red carpet dress. Nothing beats that feeling of having your hair and makeup done, slipping on some expensive jewellery and then stepping into your beautiful evening gown. You don't even have to glance into the mirror to know that you look amazing. The perfect gown requires just three ingredients, your gorgeous self, the right designer or dressmaker and of course the perfect fabric.
Fabric World & Bridal Centre would like to welcome you to view our range of exclusive beaded fabrics. At our stores, you will find an array of designs in various colours. It can be likened to Aladdin's cave of fabric treasures. Come in with an idea of what you would like, and let our staff drape you in exquisite fabrics that compliment your idea, or let our collection of laces, embroideries, beaded tulles or diamante encrusted pieces be the inspiration behind your amazing gown. We also have beautiful silks, chiffons and printed fabrics to complete your look, for lining, draping, overlaying or gordaying your dress.
The mother of the bride or groom will be delighted with the many options of delicate and feminine chantilly lace, stunning beaded lace or elegant guipure lace that will offer an exceptional look to any designer-made exclusive gown. Laces being just one of your options, at our stores the possibilities are endless.
If you fall in love with one of our beautiful satins, silks, chiffons, or lace fabrics, then we have a variety of stunning beaded edgings, elegant motifs or jewelled brooches to accessorise your garment in all the right places.
At  Fabric World & Bridal Centre we have everything you need for that glamourous matric dance dress, formal dress, bridesmaids dress or posh red carpet affair gown. The right style for you is the one that makes you feel confident and sexy. Use our dramatic beadwork and dazzling sequins fabric to steal the spotlight at any occasion.
A world of beautiful and exclusive fabrics awaits you at our stores, simply visit us.