Fashion and fabric prints ARE often inspired by Nature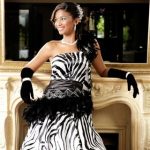 One of the best things about Africa is the multitude of our beautiful wildlife. As diverse and different as the people living on this amazing continent are, it's a no-brainer that we take our love of prints from our love of wildlife. Take Note: I don't mean literally, we are talking about the multitude of divine chiffons, satins, silks, brocades and faux fur, with beautifully inspired designs weaved or printed onto them.
Living in the urban jungle doesn't mean you can't have a wild side. Every trend spotter will tell you that a dash of animal print brings a lot of excitement to any ensemble. Animal print never goes out of fashion, even if it's a single item, un-tame your closet with some animal print. The options are endless from sultry leopard to uber chic zebra and everything in between. Want to stand out? How about a changing up the colours, for instance, a red and black zebra or a black and white giraffe. I personally love classic animal prints, like snakeskin or leopard, but with an infusion of bright colours.
The animalistic patterns are ideal for those ladies who want to look bold, fresh and modern. Why not go a step further and find animal prints mixed with floral, abstract or baroque patterns. Your choices are endless but one thing is certain, you will look amazing!
So whether you're a leopard print addict or just looking to inject a little ferociousness into your weekend get-ups, Fabric World & Bridal Centre have a range of animal prints to go wild for. If your next shopping safari leads you to our neck of the woods, take a rest stop in one of our stores to spot your favourite animal (print fabric).