A bespoke suit is the best investment you will ever make in yourself.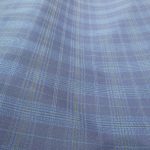 When it comes to men's fashion; fabric design, texture and colour are just as important as the cut and tailoring. "Carbon Copy" men's suits are a thing of the past. Men are now able to add their own unique style and personality to tailor made suits. You can push the boundaries with unorthodox prints and quirky neck ties. You can play with shine, texture and colour to be unique and unforgettable.

Fabric and Bridal's range of suiting fabrics include everything from printed tweed, plaid suiting, cotton, silky wool, twill fabric and even modern carbon fibre looking designs in various exciting colours.
Attending a wedding? Want to be the best looking groom and groomsmen in the wedding album? Let us help. Whether you are the dapper groom, the super cool best man, or the distinguished father of the bride, we have a fabric to perfectly tailor your chosen design to.
If you still prefer to stay classic, with something like a "Bond, James Bond" black tux, a rich navy two piece wool suit or a timeless mid-grey three piece ensemble. You will find our beautiful collection of luxurious silky wool for your perfect bespoke suit.
Suits are not just for wedding parties though, if it's a special occasion, you need a special suit. Nothing says class, distinction and sophistication like a custom made suit. We have something for everyone, from someone looking to create that uber-trendy sport coat to that head turning three-piece suit. With our variety of colours, unique prints and luxurious fabrics, you will be spoiled for choice. Every man should own at least one bespoke suit.
Make time to visit our Durban CBD store where we have a suiting fabric collection to make your vison come true.